Base on the Principle of Free Fall, the StereotaxicImpactor, which is made up
of striker, weight, mental tube and StereotaxicInstrument, is used to establish
the animalcerebral injury model.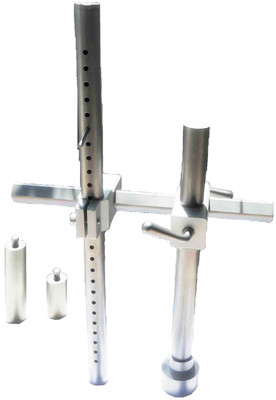 【Feature】
1. Axes of X, Y, Z can be adjusted manually
2. Diameter of striker: 4.5mm
3. Length of striker: 30mm
4. Weight : 40 g and 20 g available
5. Length of mental tube: 30cm
Impactors are applied to mice, rats, guinea pigs,rabbits, cats, dogs and other
species.
【Case ofInstruction】
Secure the head and limbs of rats in prostateposition then incise the scalp
along the midline after disinfection and extend thecut by 45 degree in front
left, forming a triangular flap. Expose the leftskull after opening the flap
and stripping the periosteum off. In order to establish a round circle with 6mm
diameter in the left skull, you need to take theleft eye socket as supporting
point and turn a small cranium bone over by theneedle holder to show the
duramater. Then it turns to the last step. Place thehitting bar outside the
round circle in the left skull and let it beperpendicular to the metal tube,
use the hitting bar of 40 gram to hit the strikerfrom 20 cm high, the impulsive
force extendsto 4×20cm.g, which cause cerebral confusion and laceration in
the left hemisphere